Panasayya Yalla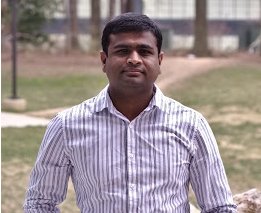 Contact
George Mason University
ECE Department, CERG
4400 University Drive, MS 1G5
Fairfax, VA 22030

Office: Engineering Building, Room 3231
Phone (lab): 703-993-1609
E-Mail: pyalla'at'gmu.edu
PGP Key ID: 0xD9190217

Research Interest
Panasayya's research interests includes computer arithmetic, cryptography for resource constrained devices, differential power analysis attacks and efficient hardware implementations on FPGAs for lightweight applications.
Advisor: Dr. Jens-Peter Kaps
Biography
Panasayya Yalla is a Graduate Research Assistant in the Electrical and Computer Engineering Department at GMU. He is currently working toward his PhD in Electrical and Computer Engineering. He received his Master's degree in Computer Engineering from George Mason University in 2009 and Bachelor's degree from Sir C.R.Reddy college on Engineering, Eluru, India in 2006.
Publications
P. Yalla, E. Homsirikamol, and J.-P. Kaps

,

Comparison of multi-purpose cores of Keccak and AES

,

Design, Automation Test in Europe DATE 2015

,

ACM

,

pages 585–588

,

Mar

,

2015

[

Bibtex

]

J.-P. Kaps, P. Yalla, K.K. Surapathi, B. Habib, S. Vadlamudi, S. Gurung, and J. Pham

,

Lightweight implementations of SHA-3 candidates on FPGAs

,

Progress in Cryptology – INDOCRYPT 2011

,

Lecture Notes in Computer Science (LNCS)

,

volume 7107

,

Springer Berlin / Heidelberg

,

pages 270–289

,

Dec

,

2011

[

pre-print, pdf

] [

Bibtex

]

P. Yalla and J.-P. Kaps

,

Lightweight cryptography for FPGAs

,

International Conference on ReConFigurable Computing and FPGAs – ReConFig'09

,

IEEE

,

pages 225–230

,

Dec.

,

2009

[

pre-print, pdf

] [

Bibtex

]

P. Yalla and J.-P. Kaps

,

Compact FPGA implementation of Camellia

,

Field Programmable Logic and Applications, FPL 2009

,

IEEE

,

pages 658–661

,

Aug.

,

2009

[

pre-print, pdf

] [

Bibtex

]

P.S.V.V.K. Yalla

,

Differential power analysis on light weight implementations of block ciphers

,

ECE Department, George Mason University

,

Fairfax, Virginia, USA

,

July

,

2009

,

Master's Thesis

[

Bibtex

]