SHARCS 2012 in Washington D.C.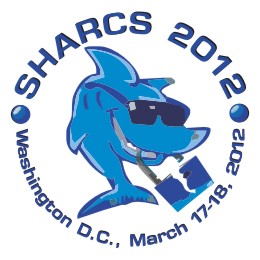 CERG was an organizer of SHARCS 2012 - Special-Purpose Hardware for Attacking Cryptographic Systems workshop held in the Washington Marriott Hotel on March 17-18, 2012. Dr. Kaps served as a general chair of the workshop, and Dr. Gaj was one of the two co-chairs. Graduate students from CERG provided technical and logistic support during the event. This edition of SHARCS had more than 70 participants from 19 countries of 5 continents. The slides of all presentations and the workshop record are posted on the SHARCS 2012 website. An extensive record of the entire series, including all slides and papers from the previous workshops, is available at http://sharcs.org. (3/19/12)
Welcome to the webpage of the Cryptographic Engineering Research Group at George Mason University. Cryptography, from Greek krpto (hidden) and grapho (write), is the science and practice of hiding information. Most Internet users come in contact with cryptography when they go to a secure website of an Internet retailer. Other popular applications are secure e-mail, Internet banking, mobile phones, etc. Cryptography has its roots in mathematics, computer science and engineering. Cryptographic Engineering is concerned with all aspects of implementing cryptographic algorithms in hardware and / or software. This ranges from high performance implementations to ultra-low power implementations of public key and secret key algorithms, fault tolerant implementations, attack resistant implementation and even implementations of attacks.
---
Dr. Gaj awarded a patent for Montgomery Multiplication Architecture
Dr. Gaj and Dr. Huang (University of Arkansas) have been awarded the U.S. patent no. 8,386,546 B2, entitled "Montgomery Multiplication Architecture," issued on February 26, 2013. The patent is based on the paper "New Hardware Architectures for Montgomery Modular Multiplication Algorithm," (preprint) published in the IEEE Transactions on Computers in July 2011. The patent will remain valid for 20 years, plus a patent term adjustment of 495 days, from the day of initial filing (March 1, 2010). (04/13/13)
---
Dr. Gaj is a member of the Program Committees of LightSec 2013, ReCoSoc 2013, CHES 2013, DSD 2013, SPACE 2013, and Asiacrypt 2013
Dr. Gaj is a member of the Program Committees for the following conferences:
(03/03/13)
---
Microsemi SmartFusion2 SoC FPGAs SpeedWay Design Workshop
CERG students, Malik Umar Sharif and Panasayya Yalla attended the Microsemi SmartFusion2 SoC FPGAs SpeedWay Design Workshop, held in Baltimore on February 20, 2013. (02/20/13)
---
Phase I Option Navy Project with McQ Inc.
CERG Team is collaborating with McQ Inc. on the Phase I Option SBIR Project entitled "Distributed Storage in Wireless Mesh Networks", sponsored by USMC. The period of performance is February 19-May 31, 2013. (02/19/13)
---
Keccak Team at NIST
The GMU CERG Team has attended the presentation entitled " Keccak and the SHA-3 Standardization" given by the Keccak Team at NIST in Gaithersburg, MD, on February 6, 2013. (02/06/13)
---
Rajesh Velegalati's Internship at Riscure
Rajesh Velegalati is conducting an internship at Riscure North America in San Francisco, CA. His work focuses on Electro Magnetic and Fault Attacks on Smart Phones. The period of the internship is from January 28 to August 16, 2013. (01/28/13).
---
Ekawat Homsirikamol's Internship at Acadia Optronics LLC
Ekawat Homsirikamol ("Ice") is conducting an internship at Acadia Optronics LLC in Rockville, MD. His work focuses on the Acadia's 100 Gb/s FPGA-based platforms used to enhance end-to-end data transmission security. The initial period of the internship is from January 28 to May 15, 2013. (01/28/13)
---
Dr. Kaps is a member of the Program Committee of (AHSA) Architectures and Hardware for Security Applications 2013
Dr. Kaps is a member of the Program Committee of the special session (AHSA) Architectures and Hardware for Security Applications at the Euromicro Conference on Digital System Design (DSD). DSD addresses all aspects of (embedded, pervasive and high-performance) digital and mixed hardware/software system engineering, down to micro-architectures, digital circuits and VLSI techniques. DSD 2013 will be held on September 4-6, 2013 in Santander, Spain. (01/21/13)
---
Crypto Evening
ECE 746 Advanced Cryptography, Project Presentations
Date: Tuesday, May 7th, 4:30 PM - 8:00 PM, Location: TBD
Join us for an evening of exciting presentations by ECE 746 students. The exact schedule will be posted here shortly. Simrit Kaur Arora, Robert Lorentz, Yamini Ravishankar, and Aaron Hunter of our research group will be presenting. Please come over to cheer them on!
---
Copyright Notice
The research papers below are presented here to ensure timely dissemination of scholarly and technical work. Copyright and all rights therein are retained by authors or by other copyright holders. All person copying this information are expected to adhere to the terms and constraints invoked by each author's copyright. In most cases, these works may not be reposted on third party websites, reproduced, distributed, sold, or licensed without the explicit permission of the copyright holder.