Abirami Prabhakaran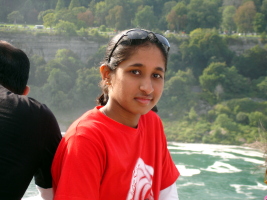 Contact
George Mason University
ECE Department, CERG
4400 University Drive, MS 1G5
Fairfax, VA 22030

Office: ENGR BLDG, Room 3224
Phone (lab): 703-993-1561
E-Mail: aprabhak'at'gmu.edu

Research Interest
Currently working on DPA resistance on FPGAs.
Advisor: Dr. Jens-Peter Kaps
Biography
Abi is a Teaching Assistant in the Electrical and Computer Engineering Department at GMU. She is working toward her M.S. degree in Computer Engineering as part of CERG. She received her B.S. degree from Amrita Institute of Technolgy in Tamilnadu, India, in 2008.
Previous work : Worked as a technical/sales associate for a year with Patriot Computers.